I was so stoked when I saw this sweet old warddrobe/dresser at the thrift store.
I fell in love with the old look of the wood and the old key holes on each drawer. It certainly needs a good cleaning, but it will have to wait. The thrift store I shop at most frequently has half off of different color tags and each week the colors change. This guy happened to be half off so I couldn't pass it up and asked my parents to buy it for me for my birthday (which is in July). I figured it would simply be a good piece of furniture to have, and it would look great in my boutique when I open it. I was thinking about sprucing it up with these bad boys:
They are hand made by Moon Raven Designs and can be found
here, on Etsy.
The only thing holding me back is that they are $20 a piece (which I really don't think is so bad for hand made knobs) and there are only two left. My good friend, Alissa, collects knobs and door handles from Anthropolgie, so I looked there and I found these fun guys: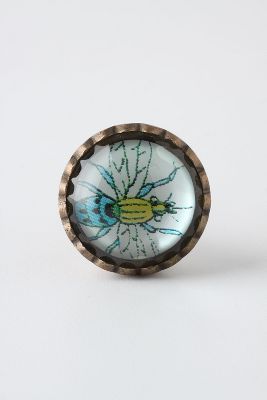 They are a little cheaper at $12 per knob and can be found
here
. But honestly, I need eight knobs and I just don't have that kind of money! I'll definitely have to start saving. But for now, my sweet new warddrobe/dresser will have to stay at my parents as I head back to school and it simply will not fit in my two door civic!