Well it is 6:30 p.m. and I am going to go take my first pill after I finish this post!
I have been spending as much time as I can with my friends.
Last night we went to a potluck/house show. We were the only people who brought food! And basically the only people who ate it, but we left it there for anyone else to enjoy.
We also kidnapped Mary Nell one night, and we crashed Mary Nell's going away work party. It was bowling!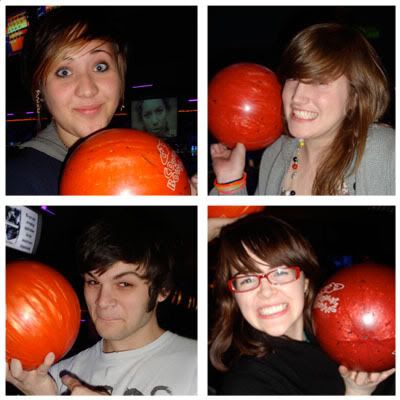 Bowling was a blast! Despite the fact that I did not knock one single pin down until the end of the night! We had about ten people on our eight people limit lane. So, Katelyn, Brian, and I were alternating on my name slot. I rolled gutter balls incessenantly. We soon realized that we only had ten minutes left on our game and that the people next to us had a couple minutes left on theirs, yet they had left. So Mary Nell, Katelyn, Brian, and I bowled on their lane. I then discovered the jackpot- a game with over an hour left on it that had been abandoned! We jumped on this lane and went to town and I rolled a strike! I think it was the excitement of playing someone else's game. We are going quarter bowling again Wednesday night- the night before I leave. It only costs a quarter a game!
Also, I got a bunch of new music that I have never listened to before, 1300 songs, actually. I uploaded them to my ipod to enjoy on my flight and any other chance I get as well. It is composed of:
World's End Girlfriend, Wolf Parade, Windmill, Blitzen Trapper, Parenthetical Girls, Suburban Kids With Biblical Names, Shearwater, Radical Face, Patchwork Grace, B. Fleischmann, Herrmann & Kleine, Her Space Holiday, Immanu El, James Figurine,
Half-Handed Cloud,
Gregory & the Hawk, Fridge, Emily Haines & The Soft Skeleton, Efterklang, Maritime, Manchester Orchestra, Voxtrot, Viking Moses!, Vashti Bunyan, This will destroy you, The Winston Jazz Routine, The Weepies, The Unicorns, The Silver Mt. Zion Memorial Orchestra & Tra-La-La Band, The tower recordings, The Russian Futurists, The Pleased, The Octopus Project, The Fiery Furnaces, The Books, The Apples in Stereo, The Annuals, Josephine Foster, Joanna Newsom, Jeniferever, Jaymaym I'm from Barcelona, Six Organs Of Admittance, Metric, Of Montreal, Seabear, Metallic Falcons, Dntel, Elliott Smith, Diane Cluck, Devendra Banhart, Amiina, Amy Millan, Teeth Mountain, Margot & the Nuclear So and So's, Sleeping People, Fruit Bats, Console, Mice Parade, Audrey,
Architecture in Helsinki,
Octopus Project_Black Moth Super Rainbow, Bat for Lashes, Khonnor, Little Wings, Grizzly Bear, A Silver Mt. Zion, Karen Dalton, Tender Forever, Sharks Keep Moving, Chazz, Aberfeldy, Sun Kil Moon, Vampire Weekend, The Twilight Sad, The Album Leaf, Panda Bear
I also put all time favorites Sleeping at Last and As Cities Burn on the playlist.
Is your god really God? I think you god isn't God if he fits inside your hand