Purply Durply Door, seventh year in a row. I have seen all the bands I could want to see over those past years. It is mostly just noise now, except this year, Renee Yohe, who is the inspiration for
To Write Love On Her Arms
, sang instead of speaking. Oh it was so darling! This was the best clip I could find from it:
I wanted to tell her we should do a duet! And, of course,
Bradley Hathaway
was delightful, and
Family Force Five
always puts on a good show.
This was pretty much my view most of the little two day festival, as I sat in the corner of the merchandise building reading
Dancing Skeletons
(which is a great book, and I found out is written by my friend's mum!).
Every year, by the art gallery, there is some sort of public, interactive art what what. One year there were records to paint and another year there were post cards to make and send. I cannot remember all of things they have had, but this year there was painters tape art, and at five on Saturday they destroyed all the art to make a big tape ball. I got there around four, so this was my small contribution: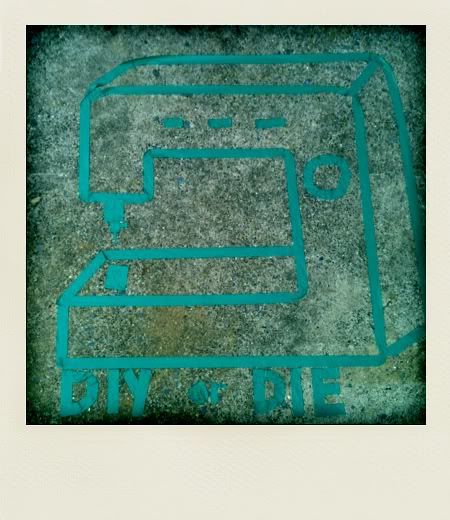 Last year, I made my staff shirt into a
vest to wear over my dress.
I made that by hand, but this year I wanted to step up my game. Initially I was going to make it into a romper, but before I left I was too frustrated with not being able to find anything in my messy room that I decided to just wing it.
The result was a halter top with a rouged back and bottom. It was very well received. And since I am trying to weed out my corporate fashion and wear only handmade or vintage, this shirt will help! (I think I might paint or appliqué a skull over all the "purple door"s).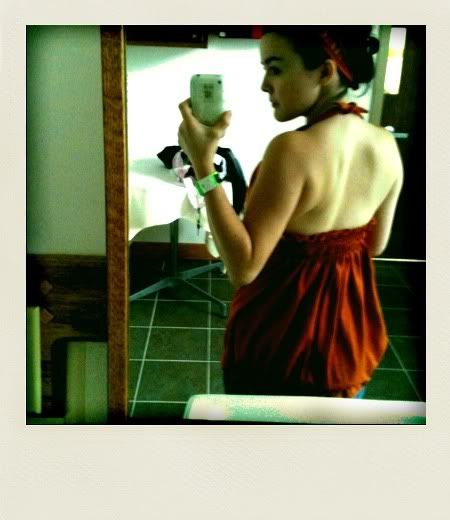 It sure was cool hearing people say, "That's awesome, she completely remade it!" Now I just got to figure out what I will do next year to step up my game... I am thinking a romper, cardigan, or overalls... Anyway! I just love Renee Yohe's voice so much!